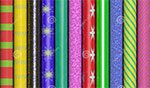 Learning Intention
I am learning to…
describe the purpose a product and how it meets a need,
create a design,
rate ideas and designs according to what I think of them.
Success Criteria
I will be successful when I…
find occasions to design,
think about the effect of my design and how I made it,
make my design safely.
To learn this I will…
talk about the purpose of wrapping paper,
look at the design features of wrapping paper,
design a pattern for wrapping paper.
Step 1
Why do we use wrapping paper?
Step 2
Design your wrapping paper on a small page.
Make your wrapping paper on an A3 page.
Step 3
Use your wrapping paper to wrap up a present.
---
For the Teacher
Australian Curriculum Design and Technologies
Achievement Standard P-2 
Learning Intention
Students will learn to…
describe the purpose of familiar products and how they meet the needs of users.
create designed solutions
evaluate their ideas and designed solutions based on personal preferences.
Success Criteria
Students will demonstrate their learning when they:
explore needs or opportunities for designing,
consider the impact of their decisions and of technologies.
safely make designed solutions